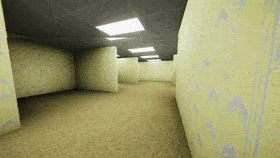 The Backrooms Game
Bug/Optimization/Balance Update 1.01.000! 😎
---
Hey there everyone! Got all those saucy, sweet patch notes for you right here. Everything that was added, changed, fixed, and optimized. Let me know if there are any other issues via reddit or Discord!
Thanks so much, and happy noclipping! 😎👉👉
The Backrooms Game 1.01.000 Update Log - 6/26/19
New Additions (6):
-Added High Quality Lighting graphical setting. Unchecking this on the settings menu will significantly reduce lighting quality, improving overall performance
-Added "off" and "on" text to toggles in settings menu
-Added "Resume" button to pause menu
-Added intro gasping sound
-Added new sounds to appear when madness reaches a high enough level
-Watch now emits a small amount of red light when pulled up
Changes (12):
-Decreases easter egg spawn chance
-Slightly decreased exit spawn chance
-Slightly decreased Being spawn chance
-Slightly decreased the effect running has on spawning the Being
-Decreased the minimum amount of madness needed to spawn Being
-Exits will now only appear after a certain distance away the from starting point
-Slightly reduced volume on Pie On A Plate Productions splash screen
-Slightly increased the rate in which banging sounds are heard
-Increased the volume of many banging sounds (a few were often not even heard during gameplay)
-Increased size of "Paused" on pause menu
-Failing at the Calm Game (minigame during exiting alive) will now increase madness
-Decreased time taken to generate initial level
Bug Fixes (9):
-Fixed issue where text on the watch would sometimes become unreadable
-Fixed issue where walls would sometimes fail to generate/not be attached to any other pieces/become see through etc.
-Fixed issue where player could sometimes access an exit through walls
-Fixed issue where player could sometimes attempt to exit after dying
-Fixed issue where game would often crash on load when playing on Windows 7
-Fixed inaccuracy of Calm Game at exits during high madness
-Fixed issue where player would not die after (improperly) falling under the level
-Fixed issue where player would properly exit before dying, but would die anyways
-Greatly decreased the chances of a floor/ceiling not generating properly. Not yet confirmed to be fixed due to the huge nature of the game, though great progress has been made in fixing this issue
Optimizations (3):
-Optimized level generation algorithm
-Slightly optimized overall lighting solution
-Added more performant LODs to objects to improve overall rendering efficiency
Known Issues (1):
-Many AMD graphics cards struggle to perform as well as they theoretically should
Status: Currently being investigated
Resolution probability at this stage: Unlikely. Sorry 😢
Files
The Backrooms Game_Windows_64bit.zip
171 MB
Jun 27, 2019
The Backrooms Game_Windows_32bit (UNSTABLE).zip
169 MB
Jun 27, 2019
The Backrooms Game_Linux.zip
176 MB
Jun 27, 2019